I have fallen in love with the book of Job and all the layers of what seems to be two or three weeks of conversations involving God, Satan, Job, Job's three friends, and my main man Elihu. Most people are familiar with the story of Job, but going through this tremendous book, the Lord has shown me so many things, specifically as it applies to mental health. Before we look at Job, let's look at Job's three friends, then Elihu.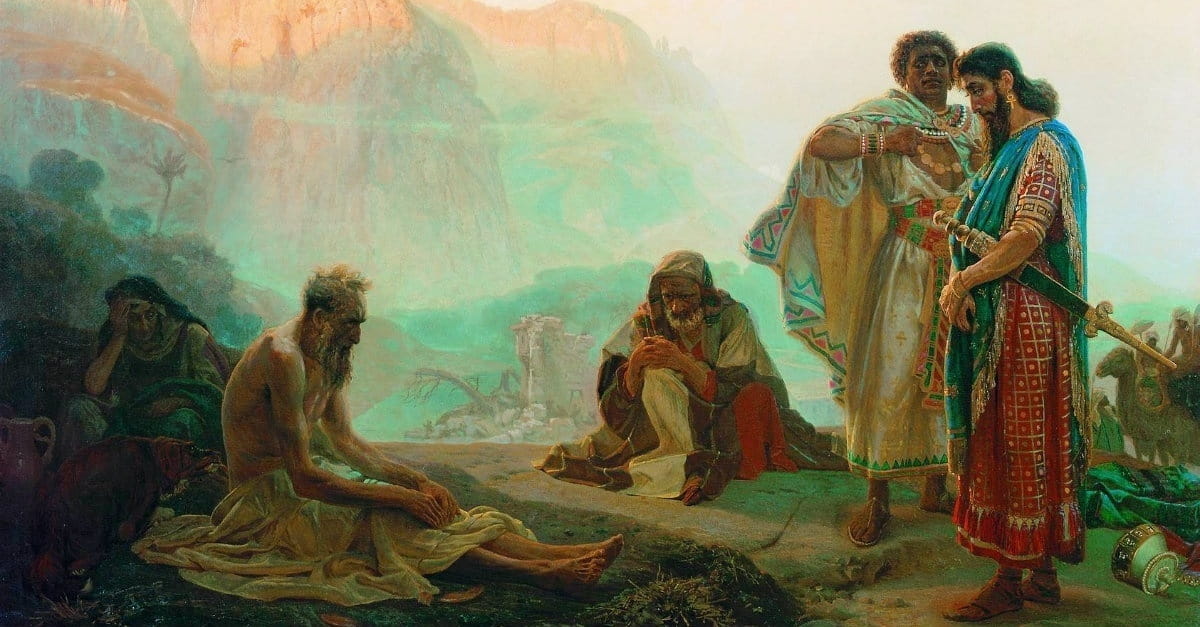 The ministry of presence is a real thing, and we see it in Job 2. One of the best things that they did for him was just be around and mourn with him, not rush to say anything to Job, and just be with him. This is so critical for us to understand as we coming alongside friends and family who are going through, because more times than we realize, they rather than a response, they need presence. Just be there. Furthermore, they let Job speak first. They did not bust out the gate with questions or even "comforting" words. His friends allowed him to open up when he was ready. We must do the same. However…things took a turn.
His friends started off strong, but then bombed. They waited for Job to speak first, but didn't listen, hurting him more on top of the pain he was already feeling. Job unapologetically poured his sorrow and anguish out to them and they responded to him saying it was his fault. Not a good idea. Job defended himself multiple times, but his friends were not sensitive, nor did they listen to what Job was trying to communicate to them. Granted, I believe that his friends genuinely wanted to help, but were relying on their own wisdom and understanding rather than God's. Therefore, whenever we try to help, we must ask the Lord for discernment and direction so that we don't make things worse and or come off arrogant and pious like Job's friends. Although, any friendship or close relationship will have challenges, for even if we follow God and say and do what He tells us, it's not unlikely that the other person won't get upset with you. God's truth is like a double-edged sword, so by nature, someone's feelings will be hurt.
Furthermore, what I think was most hurtful is that not only were they not listening to Job, but they really thought the worst of him. It wasn't even that they were speaking bad theology, but that it was executed so wrong. Furthermore, they were so closed-minded that they couldn't even process the fact that all of what Job experienced had nothing to do with his sin; they had a very small and shallow view of God, which is why they considered him foolish. As a result, when your mental space is in a vulnerable place, be very careful of the people you allow to speak into your life, even if they do present Scripture, God may not actually be speaking to you through them.
Let's look at Job's mental status in all this.
Job was severely distressed, depressed, and though he wasn't suicidal, he made it known that he wished he wasn't and dreaded the day he was born. Job was not afraid to acknowledge his emotions and had a support system where he believed he could release. To engage in such a long conversation with his friends, it was obvious that they were close and that Job knew he needed help dealing with his pain. Whenever we go through, we have to acknowledge our pain and find a place to express it. If we ignore, deny, or suppress it, it makes it worse. Get help, even if you think you can handle it on your own, talk to someone you trust.
However, one of the mistakes Job made was allowing his friends to hear his personal prayer to God amidst their negative position. There is a reason we should have a "prayer closet"; it's personal. God knows our hearts and His goal is not to condemn us nor to make us feel guilty, so it's makes sense that Job was sure enough of his relationship with the Lord that he was not afraid to tell God how he felt toward Him, ask questions, and express his woes. He took his mask off before God; he was honest to God about all that was going on in his heart and mind. None of his wise friends understood exactly what was taking place.
Moreover, though Job was greatly depressed, overwhelmed, and felt completely alone, including his strained relationship with his wife, which he mentioned after the epic "curse God and die" scene, he never lost sight of who he was and who God is. Even though he was in the most unfavorable place, he knew it was not his fault and that God allowed these things to happen to him, but he couldn't figure out why, yet he still worshiped.
To keep us from going over the edge, me must first recognize that whatever happens to us has been permitted by God, even if we don't have any reasoning, and then worship and praise our way all the way through. Job remembered the sovereignty and power of God. Furthermore, he reminded his friends several times who God was and became frustrated with them, if not angry, and let them know more than once that he was not inferior to him and that their stance on his situation was wrong. He was secure in who he was, refusing to agree with what they were saying to him, so at one point he told them to shut up and leave him be with God, because by then they were useless (Nia's version); he shamed them for being crappy friends several times. Needless to say, his friends did not like when he challenged their approach, which created most of the friction.
As we battle in our minds, our foundation in the Lord must remain firm, because our peace will flow when we are able to distinguish God's voice from all others. If there is any disagreement in the voices we hear around us, choose God's voice always, whether He is telling us to simply trust Him or He is humbling us, as He did with Job.
Job's mistake was that his questioning of God became self-righteousness, which I believe was a deviation of his frustration and self-pity. He allowed his friends to focus so much on himself that he took his focus off God trying to prove his righteousness to them. In trying to defend his name, he made God out to be the bad guy as the dialogue continued. Nevertheless, his saving grace was his boldness to go before God and get the clarity he needed.
One of the biggest lessons we can take from Job to keep us from losing control mentally is to have such a relationship with God that we are not afraid to ask God big questions and be completely honest with the holy and righteous Creator of the universe. He boldly went to the throne repeatedly and expected God to respond at some point, which He did. God wants to know what's on your heart and wants to converse with you. Share with Him all your cares, frustrations and uncertainties. Disclaimer – there are better ways to approach God than the way Job did, which made this last character in the story we will talk about so important.
My main man Elihu.
I wrote a blog on him previously, but his role in this narrative is vital. Elihu was the friend we all need. He listened, not for the sake of replying, like Job's other three friends, but to truly understand their perspectives, proven by how he repeated what was said as he stated his points. He sat quietly for a while, but when God burdened his spirit he boldly opened his mouth, and he spoke the truth in love. He showed no partiality and refocused everyone's on God. Elihu respected and honored who they were, and was not judgmental, condemning, or belittling, instead he was confident in the truth communicated to him by God. Furthermore, he shared his intentions with them before sharing his thoughts. Elihu is the hero of the story, because he indeed prepared the way for God to speak, since He made it clear God pays no mind to foolish talking like that which came from Job's friends and then Job himself. God gracefully used Elihu to soften the heart of Job in order that he may properly receive what God wanted to directly say to him.
As we are in relationship with others who are battling in one way or another, we shouldn't be afraid of the truth, rather speak it boldly in love, otherwise, we are doing a great disservice. If the truth that we communicate does not point back to Christ, then what we say is not truth as much as it is flattery or ignorance.
This is an incredible story that brings to life so many of the things we deal with daily. Job, Elihu, and his other three friends are personas that have manifested in our lives on I am sure multiple occasions. So much to glean and so much to learn that will influence out mental behavior if we allow it.